America's #1 Affordable Foot Massager.

Perfect For Relief, Receovery & Relaxation
  Many studies show therapeutic massage can help improve circulation, relax soft tissues, trigger the release of hormones like serotonin. However, these effects extend further than a healthy glow and more happy hormones, they can translate to a better attitude, better attention span, better pain management, and best of all, better sleep.
Relieve Feet Tension and Fatigue at the comfort of your own home and without breaking the bank!
Experience the ultimate relaxation with traditional shiatsu and reflexology therapy!
Immerse yourself in the stress-relieving medical advantages of using this Therapeutic Foot Massage Roller.

✅ Restore and maintain the body's energy, especially helpful to those suffering from fatigue and overall weakness. Improves blood circulation and reduces numbness of the feet.
✅ Helps to prevent & rebuild the muscle atrophy
✅ Reduces stress and tension as well as anxiety and depression
✅ Helps bring relief to arthritis sufferers
✅ Relieves foot pains caused by plantar fasciitis, arthritis, bunions, injury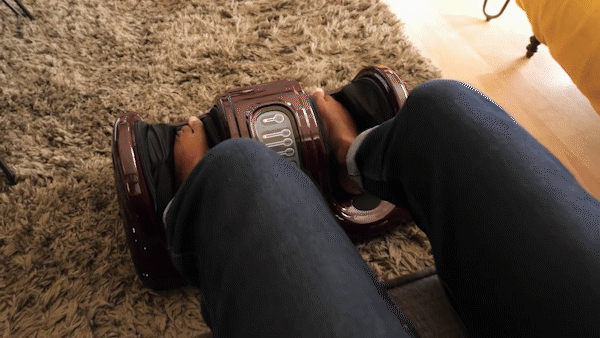 #1 Most Afforadable & Therapeutic
Foot Massager in the Country
The Escomart™ foot massager is ergonomically designed for maximum comfort. It offers a deep-kneading Shiatsu massage, heated, squeeze massage. It can improve the blood flow, relieve chronic foot pain from plantar fasciitisd, help with neuropathic foot numbnes

Foot massage feels good not only because you'll feel your muscles relax, but also because the massage increases the release of hormones in your body that create relaxation and a sense of calm, and decreases the release of hormones that keep you tense and stressed.
With a red, smooth surface, the massager looks modern and easy to clean. With this foot massager, you can massage your tiptoe, arch of the foot, sole of the foot according to your needs and likes. Enjoy massage at home!
Relief
From any foot pain & soreness


Recovery
From foot injury & sparins
Rejuvenation
Elevates mood
instantly
Total Body Relaxation Starts With Your
Escomart™ Foot Massager
Stimulates all the vital reflexology pressure points, leaving no untargeted areas with this massager.
Uses 3 different techniques for a deep, therapeutic massage; pulsing, kneading and rolling.
Portable and Compact design lets you use it without obstructing everyday lifestyle inside your home.
Bring it anywhere you want to. Short trips or even long trips!
The foot massager has 3 adjustable speeds, which can meet all of your demands. It has 2 programs: personalized and automatic.                                  
Effective remedy on 
CHRONIC
PAIN
-------------------------------------------------------------

Daily massage is a holistic approach to long-term pain management. UK-580's industry-only comprehensive massaging rollers located behind the calves gently knead and rub the calf muscles, mimicking the smooth hand motions of a real masseuse, effectively stretching and lengthening the muscles, for immediate muscle pain relief.
PLANTAR
FASCIITIS
------------------------------------------------------------
Plantar fasciitis is a common type of repetitive strain injury among athletes and those who are on their feet all day. Massage therapy provides quick and effective pain relief; reflexology massage can help stretch and loosen tight muscles and tendons, while improving circulation and blood flow, and reduce pain in nerve endings.
NEUROPATHIC
NUMBNESS
----------------------------------------------------------
Diabetic and peripheral neuropathy can cause numbness or sharp pain in your extremities, typically due to nerve damage. Massage is a non-invasive method of neuropathy pain management in the legs and feet. Air compression massage stimulates circulation to provide relief of numbness, tingling pain, and burning sensations.
LEG & FOOT
FIBROMYALGIA
---------------------------------------------------------
Fibromyalgia in the legs often feels like sharp, numbing, or burning pain. To some, the pain becomes so intense that even walking is a challenge. Powerful kneading massage rollers specifically target trigger points and tender points associated with fibromyalgia leg pain, and release pressure through soothing and gentle rubbing motion.
30-DAY SATISFIED OR 100% REFUNDED GUARANTEE: if you don't like your product, send us a message within 30 days and you will get a full refund!

Guarantee of authenticity : We draw your attention to the presence of a large number of counterfeits of this article on the Internet. We guarantee the authenticity of Escomart™ - it is the only one to hold the CE marking (Regulation (EC) No 765/2008 of 9 July 2008). To be sure to get your original model, we invite you to order only on the official website (Escomart.com).

Shipping & Warranty

Available in U.S. and Canada

Best Warranty in the Business

100% Secure Check-out